OnePlus dit d'elle-même que ses fans sont très importants pour l'entreprise. Le fabricant est en échange constant avec la communauté, et ce qui a été entendu là-bas après le lancement du OnePlus 8 et du OnePlus 8 Pro était probablement très clair : le fabricant, qui s'était autrefois engagé à ennuyer les fabricants établis et leurs coûteux fleurons avec ses propres appareils haut de gamme beaucoup moins chers, est maintenant devenu lui-même une marque haut de gamme, où des prix élevés ont également été fixés. Et il est compréhensible que de nombreux fans de longue date n'aient pas été très satisfaits de cette situation.
La demande d'un appareil OnePlus bon marché qui remonte aux origines du fabricant, pour ainsi dire, s'est fait entendre, et maintenant OnePlus a répondu à l'appel : Non seulement le OnePlus Nord est censé attirer l'attention avec son nom particulier, mais il est également censé fournir à nouveau des spécifications de pointe à des prix abordables.
La première impression que nous avons eue après le déballage confirme sans aucun doute la qualité du OnePlus Nord : le smartphone est solidement fabriqué et tient bien en main. Le OnePlus Nord est un smartphone de taille moyenne, probablement encore trop grand pour les petites mains, mais pas non plus un téléphone portable géant comme le OnePlus 8 Pro.
Nous pouvons confirmer la présence d'un écran mince ainsi que le bon positionnement de la caméra à double trou, qui n'attire pas trop l'attention et ne s'interrompt pas lorsque des images de fond intelligentes sont utilisées.
Nous avons reçu la version bleue du smartphone, une version plus discrète en gris est également disponible au lancement.
Configuration
The OnePlus Nord's specs aren't bad for a device that you can get for under 400 Euros (~$463): A 90 Hz display, 5G, four cameras at the back and two at the front, fast-charging technology at up to 30 watts, and a lot of storage.
Specifically, the OnePlus Nord is available in the following storage configurations:
8 GB of RAM / 128 GB of storage: 399 Euros (~$462)

12 GB of RAM / 256 GB of storage: 499 Euros (~$578)

Are there also things that worry us at first sight? Well, the battery doesn't seem to be particularly powerful at 4,115 mAh, which could limit the smartphone's runtimes. The SoC isn't the absolute best but the Snapdragon 765G upper-class model instead. This should offer more than enough power for most apps, but the performance gap to more-expensive flagships should be noticeable.
There is no Wi-Fi 6, which could scare off fans of fast network connections. The display's 1080p resolution is surpassed by some more-expensive smartphones, but it's entirely sufficient for the screen size to render a sharp image.
But we are, of course, nitpicking here since the configuration is still very good for a smartphone in this price range.
Camera
Of the four camera lenses on the back, three can be used to take stand-alone photos: With 48 megapixels and pixel-binning, the main camera combines four pixels into one by default to produce 12-megapixel photos with a high light output. In addition, there's a wide-angle and a macro lens that has a very low resolution of 2 megapixels, though. The fourth lens is used to obtain depth information for portrait shots.
Our first impression of the camera is good: The photos taken with the main camera look colorful and sharp even in not-quite-optimal lighting conditions. The wide-angle camera takes decent pictures too, and due to the different levels of zoom provided by the lenses, there is quite some flexibility at the time of composing a photo. Since OnePlus wants to keep tuning the camera software until the time of release, we're not allowed to publish any sample photos until the final review is done.
There are also two cameras on the front: A normal and a wide-angle lens. You can only switch between them but not zoom. Pictures taken with these lenses quickly look overexposed in bright environments, but as already mentioned, OnePlus still has time to improve the camera.
Preliminary verdict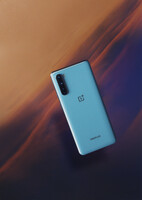 The OnePlus Nord is a device at a competitive price that looks high-quality at first glance and comes with a lot of features: Four cameras at the back, two at the front, a 90 Hz display, 5G, and also generous storage options. It inherits the smooth and modern operating system from its more-expensive siblings as well as the quick-charging technology.
The battery and processor have yet to prove to us in the test that they can keep up with the performance of actual high-end devices. In addition, there's no WiFi 6, which is a pity for now.
The OnePlus Nord offers a lot, but it also has to assert itself against tough competition. The review will definitely be exciting.

If the OnePlus One and its direct successors were still price breakers and had hardly any real competition, things look different today: Even the most established vendors have woken up and now offer cheaper alternatives with an interesting price-performance ratio. So it will be interesting to see how the OnePlus Nord performs in this new environment and whether it still deserves the title of price breaker.
We already have the test device here, but due to the embargo we can't publish our extensive review until next Monday.
Unboxing and hands-on video (English)