Courte critique de la Tablette Lenovo Yoga Tablet 2 Pro
Lenovo Yoga Tablet 2 Pro


HD Graphics (Bay Trail), Z3745, 32 GB SSD

Lenovo Yoga Tablet 2 1050F


HD Graphics (Bay Trail), Z3745, 16 GB eMMC Flash

Asus Transformer Pad TF701T


GeForce Tegra 4, 4, 32 GB eMMC Flash

Apple iPad Air 2


PowerVR GXA6850, A8X, 128 GB eMMC Flash

Microsoft Surface 2


GeForce Tegra 4, 4, 32 GB eMMC Flash

Samsung Galaxy Note Pro 12.2


Mali-T628 MP6, 5420 Octa, 32 GB eMMC Flash

Screen

17%

23%

22%

17%

6%

Brightness middle

412

Brightness

383

Brightness Distribution

86

Black Level *

0.67

Contrast

615

Colorchecker DeltaE2000 *

5.8

Greyscale DeltaE2000 *

6.3

Gamma

2.29 96%

2.6 85%

2.52 87%

2.43 91%

2.46 89%

2.51 88%

CCT

7302 89%

6740 96%

6819 95%

6941 94%

6740 96%

7086 92%

Color Space (Percent of AdobeRGB 1998)

88
* ... Moindre est la valeur, meilleures sont les performances
* ... Moindre est la valeur, meilleures sont les performances
(+)
The average temperature for the upper side under maximal load is 28.9 °C / 84 F, compared to the average of 30.5 °C / 87 F for the devices in the class Tablet.
(+)
The maximum temperature on the upper side is 33.4 °C / 92 F, compared to the average of 34.5 °C / 94 F, ranging from 22.2 to 53.2 °C for the class Tablet.
(+)
The bottom heats up to a maximum of 31.3 °C / 88 F, compared to the average of 33.9 °C / 93 F
(+)
In idle usage, the average temperature for the upper side is 27.9 °C / 82 F, compared to the device average of 30.5 °C / 87 F.
Consommation énergétique
Éteint/en veille

0 / 0.1 Watts

Au repos

2.6 / 7.5 / 7.7 Watts

Fortement sollicité

8.8 / 9.9 Watts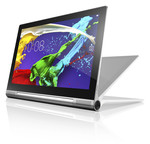 Le "buzz" a le mérite d'exister avec la fiche de présentation du Yoga Tablet 2 Pro : rétroprojecteur intégré, tout nouveau système sonore, appareil photo de qualité, écran haute résolution... Lenovo mérite des louanges pour avoir réussi à répondre à autant de demandes pour un prix relativement modéré de 499 euros pour la version WiFi et 599 euros pour la version cellulaire LTE.
Le rétroprojecteur s'avère être très utile au quotidien, une excellente alternative pour regarder ses films le soir. Le rendu des couleurs est flatteur et la luminosité satisfaisante pour une utilisation confortable. Si le son ne peut égaler celui produit par un ordinateur portable de jeu ou une installation home cinéma, il reste impressionnant pour une tablette. Ceci légitime encore un peu plus la tablette dans le rôle d'appareil de divertissement pour toute la famille.
La barre-poignée (cylindrique) coupe la finesse du Yoga Tablet 2 Pro mais elle a ses avantages, de même que pour pied intégré : tout cela participe à la sécurisation de la tablette. La tablette va jusqu'à rendre en télévision secondaire inutile en pouvant être accrochée au mur. Lenovo ne manque pas d'idées et cherche constamment à en trouver des nouvelles, comportement que nous ne manquons pas de saluer au passage.
L'écran haute résolution aurait peut-être pu être encore un peu plus fidèle dans son rendu des couleurs, la stabilité de la tablette n'est pas parfaite et le GPS manque cruellement de fiabilité. Le SoC/Système sur Puce délivre des performances du milieu de l'échelle et certaines latences sont à observer au quotidien, mais nous vous rassurons rien d'insupportable. En pratique, l'autonomie est plutôt bonne, la chauffe est contenue et la suite logicielle bien réfléchie.
Rendons à César ce qui appartient à César : le Yoga Tablet 2 Pro a le mérite de tenter de nouvelles choses, qui sont de surcroît bien intégrées dans les machines de série. La tablette pêche par une prestation globale moyenne. Si pour vous, cette tablette de 13,3 pouces affichant près de 1 kg sur la balance ne vous semble pas particulièrement encombrante, alors nous vous conseillons de sauter le pas : innovante et fiable, cette tablette fera grande impression autour de vous.
Pour plus de détails, vous trouverez la version complète (en anglais) de ce test ici.