Courte critique du PC portable MSI GP60-2PEi585
MSI GP60-2PEi585


GeForce 840M, 4200H, Western Digital Scorpio Blue WD5000LPVX

Lenovo IdeaPad Y510p


GeForce GT 750M SLI, 4700MQ, Samsung SpinPoint M8 HN-M101MBB

Asus F550LN-CN89H


GeForce 840M, 4500U, Seagate Momentus SpinPoint M8 ST1000LM024 HN-M101MBB

Asus N550JK-CN109H


GeForce GTX 850M, 4200H, Seagate Momentus SpinPoint M8 ST1000LM024 HN-M101MBB

Screen

-5%

-6%

5%

Brightness middle

228

Brightness

209

Brightness Distribution

77

Black Level *

0.3

Contrast

760

Colorchecker DeltaE2000 *

7.11

Greyscale DeltaE2000 *

8.38

Gamma

2.22 99%

2.55 86%

2.36 93%

2.63 84%

CCT

10041 65%

11341 57%

6991 93%

6119 106%

Color Space (Percent of AdobeRGB 1998)

56
* ... Moindre est la valeur, meilleures sont les performances
Cinebench R11.5
CPU Single 64Bit (Classer selon les valeurs)
MSI GP60-2PEi585


GeForce 840M, 4200H, Western Digital Scorpio Blue WD5000LPVX

Asus F550LN-CN89H


GeForce 840M, 4500U, Seagate Momentus SpinPoint M8 ST1000LM024 HN-M101MBB

Asus F550LN-CN89H


GeForce 840M, 4500U, Seagate Momentus SpinPoint M8 ST1000LM024 HN-M101MBB

Lenovo IdeaPad Y510p 59-395032


GeForce GT 755M, 4700MQ, Seagate ST1000LM014 Solid State Hybrid Drive

Asus VivoBook S451LB-CA072H


GeForce GT 740M, 4200U, Hitachi Travelstar Z5K500 HTS545050A7E680

Medion Akoya E6239T


HD Graphics (Bay Trail), N3510, Seagate Momentus SpinPoint M8 ST1000LM024 HN-M101MBB

CPU Multi 64Bit (Classer selon les valeurs)
MSI GP60-2PEi585


GeForce 840M, 4200H, Western Digital Scorpio Blue WD5000LPVX

Asus F550LN-CN89H


GeForce 840M, 4500U, Seagate Momentus SpinPoint M8 ST1000LM024 HN-M101MBB

Asus F550LN-CN89H


GeForce 840M, 4500U, Seagate Momentus SpinPoint M8 ST1000LM024 HN-M101MBB

Lenovo IdeaPad Y510p 59-395032


GeForce GT 755M, 4700MQ, Seagate ST1000LM014 Solid State Hybrid Drive

Asus VivoBook S451LB-CA072H


GeForce GT 740M, 4200U, Hitachi Travelstar Z5K500 HTS545050A7E680

Medion Akoya E6239T


HD Graphics (Bay Trail), N3510, Seagate Momentus SpinPoint M8 ST1000LM024 HN-M101MBB
PCMark 7 Score
2953 points
PCMark 8 Home Score Accelerated
2912 points
PCMark 8 Creative Score Accelerated
3077 points
PCMark 8 Work Score Accelerated
3690 points

Aide
Western Digital Scorpio Blue WD5000LPVX
Débit de transfert minimal: 39.5 MB/s
Débit de transfert maximal: 118.6 MB/s
Débit de transfert moyen: 87 MB/s
Débit en pointe: 175 MB/s
Utilisation du processeur: 4.6 %
3DMark 11 Performance
2562 points
3DMark Ice Storm Standard Score
54685 points
3DMark Cloud Gate Standard Score
6707 points
3DMark Fire Strike Score
1448 points

Aide
Degré de la nuisance sonore
Au repos

33 / 33.2 / 33.4 dB(A)

Disque dur

33.4 dB(A)

Lecteur DVD

37.7 / 37.7 dB(A)

Fortement sollicité

36.2 / 50 dB(A)




30 dB
silencieux

40 dB(A)
audible

50 dB(A)
bruyant

min:

, med:

, max:

Voltcraft sl-320 (à 15 cm de distance)
(±)
The average temperature for the upper side under maximal load is 35.4 °C / 96 F, compared to the average of 31 °C / 88 F for the devices in the class Multimedia.
(±)
The maximum temperature on the upper side is 40.6 °C / 105 F, compared to the average of 36.6 °C / 98 F, ranging from 21.1 to 71 °C for the class Multimedia.
(±)
The bottom heats up to a maximum of 42.5 °C / 109 F, compared to the average of 38.9 °C / 102 F
(+)
In idle usage, the average temperature for the upper side is 25.9 °C / 79 F, compared to the device average of 31 °C / 88 F.
(±)
The palmrests and touchpad can get very hot to the touch with a maximum of 36.3 °C / 97.3 F.
(-)
The average temperature of the palmrest area of similar devices was 29 °C / 84.2 F (-7.3 °C / -13.1 F).
Consommation énergétique
Éteint/en veille

0.1 / 0.2 Watts

Au repos

7.3 / 13.1 / 21.7 Watts

Fortement sollicité

50.8 / 74.5 Watts




Légende: min:

, med:

, max:

Voltcraft VC 940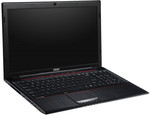 Le GP60 2Pei585 Leopard n'est qu'une configuration au final similaire à celles proposées sur ce modèle. MSI module son offre en fonction du processeur et de a carte graphique. Les composants internes choisis justifient de manière assez bancale le prix grand public d'un peu moins de 800 euros tandis que le système d'exploitation coûte environ 100 euros. MSI propose un système similaire avec l'ancienne carte graphique GT740M et un processeur quad-core Intel Core i7 4700MQ sans système d'exploitation pour 600 euros.
La combinaison processeur/carte graphique présentée ici n'est pas vraiment recommandée aux joueurs appartenant à la catégorie des enthousiastes, mais de nombreux jeux devraient être fluides avec les détails sur "élevé". Les performances du système sont constamment très élevées, ce qui se fait malheureusement aux dépends de la haute dissipation thermique du processeur. Par conséquent, le système devrait être utilisé sur un bureau plutôt que dans votre jardin.
La dalle matte haute résolution FullHD vaut le coup d'œil. Non seulement suffisamment lumineuse, elle arbore un riche contraste et des angles de vision stables. Sa lisibilité à l'extérieur est bien meilleure que nombre de ses concurrents.
Si vous n'avez que faire d'un châssis en plastique légèrement plus épais que la moyenne et que vous passerez un peu de temps devant des jeux vidéo gourmands, ce MSI est une option tout à fait viable compte tenu de son prix. Nous vous conseillons de considérer le modèle intégrant une carte graphique d'ancienne génération GT740M mais un processeur quad-core Intel bien plus puissant.
Pour plus de détails, vous trouverez la version complète (en anglais) de ce test ici.