NVIDIA GeForce 405M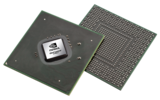 La Nvidia GeForce 405M est une carte graphique d'entrée de gamme et c'est techniquement une carte graphique GeForce 310M / 315M renommée. Donc c'est toujours la même architecture G2xx que l'on retrouve dans la GeForce G210M avec des fréquences différentes.
Les performances de la 405M sont proches de la GeForce G 210M et donc assez bas dans la hiérarchie. Des jeux en 3D plus anciens comme COD Modern Warfare 2 ne pourront fonctionner qu'avec des détails et les résolutions basses. Certains jeux comme NFS Shift ou GTA4 sont injouable. Des jeux moins gourmands comme SIMS 3 tournent parfaitement avec des résolutions et des détails moyens. Donc ce n'est pas du tout une carte graphique recommandée aux joueurs. Comparé aux cartes graphiques intégrées modernes de AMD et Intel, la Geforce 405M n'est pas très puissante donc seulement adaptée à des processeurs Pentium. Dans les jeux comme Call of Duty MW3 ou Anno 2070 on vous conseille de consulter la page de la GeForce G210M qui est très proche.
Cette carte graphique supporte DirectX 10.1 et toutes les fonctionnalités de la G 210M (Vu qu'elle est aussi basée sur la puce GT218). Donc PureVideo HD permet de décoder les vidéos HD avec la carte graphique. Grâce au décodeur Video Processor 4 (VP4)La carte graphique est capable de décoder les formats vidéo HD H.264, VC-1, MPEG-2, et aussi MPEG-4 ASP (DivX ou xVID) pour minimiser l'occupation du processeur. MPEG-1 n'est pas supporté mais il est facilement gérable par le CPU seul.
Comme la 310M il supporte CUDA, DirectX Compute 10.1, et OpenCL, les shaders de la carte graphique peuvent être utilisées pour d'autres tâches que de rendre des images, par exemple l'encodage de vidéo.
La puce GT218 utilisée est fabriquée en 40nm et reste basée sur l'architecture GTX 200.
GeForce 400M Gamme

| | | |
| --- | --- | --- |
| GeForce 410M | 48 @ 0.58 GHz | 64 Bit @ 800 MHz |
| GeForce 405M | 16 @ 0.61 GHz | 64 Bit @ 1600 MHz |

Architecture
GT2xx
Pipelines
16 - unifiés
Fréquence du noyau interne
606 MHz
Fréquence des unités de calcul Shaders
1212 MHz
Fréquence de la mémoire
1600 MHz
Largeur du bus mémoire
64 Bit
Type de mémoire
GDDR3, DDR3
Quantité maximale possible de mémoire embarquée
512 Mo
Mémoire partagée
non
API
DirectX 10.1, Shader 4.1
Nombre de transistors
260 Million(s)
technologie
40 nm
Caractéristiques
DirectX Compute Support (Windows 7), CUDA, OpenCL, OpenGL 2.1, HybridPower
Date de présentation
11.05.2012
Lien redirigeant vers la page du fabricant
http://www.geforce.com/hardware/notebook...
Benchmarks
- Amplitude des valeurs obtenues dans le benchmark avec cette carte graphique

- Valeur moyenne obtenue dans le benchmark avec cette carte graphique
* Plus les chiffres sont petits, plus les performances sont élevées
Pour plus de jeux susceptibles d'être fluides avec cette carte graphique et obtenir une liste exhaustive de tous les jeux et cartes graphiques testés, consultez notre liste des jeux.
v1.17
log 10. 21:59:25
#0 no ids found in url (should be separated by "_") +0s ... 0s
#1 not redirecting to Ajax server +0s ... 0s
#2 did not recreate cache, as it is less than 5 days old! Created at Sun, 07 Aug 2022 19:03:33 +0200 +0.001s ... 0.001s
#3 no comparison url found in template nbc.compare_page_1 needed +0.035s ... 0.036s
#4 composed specs +0s ... 0.036s
#5 did output specs +0s ... 0.036s
#6 start showIntegratedCPUs +0s ... 0.036s
#7 getting avg benchmarks for device 3181 +0.009s ... 0.045s
#8 got single benchmarks 3181 +0s ... 0.046s
#9 got avg benchmarks for devices +0s ... 0.046s
#10 min, max, avg, median took s +0s ... 0.046s
#11 before gaming benchmark output +0s ... 0.046s
#12 Got 0 rows for game benchmarks. +0.001s ... 0.047s
#13 no comparison url found in template nbc.compare_page_1 needed +0.003s ... 0.05s
#14 return log +0s ... 0.05s
Aucun test trouvé pour cette carte graphique.