Intel HD Graphics (Haswell)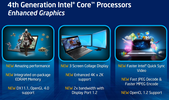 L'Intel HD Graphics (Haswell) est un circuit graphique intégré aux processeurs Haswell Celeron et Pentium. Il s'agit du successeur de l'Intel HD Graphics Ivy Bridge en amenant certaines améliorations. En fonction du processeur, la fréquence nominale et la fréquence Turbo peuvent varier, ce qui explique les écarts de performances entre différents modèles de processeurs.

Comparée à la HD Graphics (Ivy Bridge), la puce graphique de la HD Graphics (Haswell) a été considérablement modifiée. Le GPU supporte maintenant DirectX 11.1, OpenCL 1.2 et OpenGL 4.0. Il possède aussi un décodeur amélioré pour les vidéos 4K et le puissant encodeur Quick Sync (désactivé sur certains modèles entrée de gamme).

Les performances de la HD Graphics sont similaires à celles d'une HD 3000 et de celles de l'AMD Radeon HD 8250. Seuls quelques jeux modernes comme DOTA 2 seront fluides avec tous les paramètres au minimum.

Due to the 22nm 3D Tri-Gate production process, the power consumption should be relatively low (the development was focused on performance per Watt). The GPU can be found in ULV models and regular (37 W) dual core CPUs.

Avec son procédé de fabrication en 22nm de type 3D Tri-Gate la consommation est relativement basse (l'effort a été porté sur le ratio performances par watt). Le circuit intégré se retrouve sur les modèles ULV Ultra Basse Tension comme sur les dual-core standards (37 W).
HD Graphics Gamme

Nom de code
Haswell GT1
Architecture
Gen. 7.5 Haswell
Pipelines
10 - unifiés
Fréquence du noyau interne
200 - 1000 (Boost) MHz
Largeur du bus mémoire
64/128 Bit
Mémoire partagée
oui
API
DirectX 11.1, Shader 5.0
technologie
22 nm
Date de présentation
01.10.2012
Benchmarks
Performance Rating
- 3DMark 11 + Fire Strike + Time Spy